Home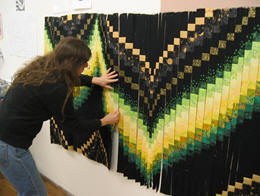 With over 25 years of experience with fiber art Ria has converted a lifetime passion for quilts into an art form. Displaying her custom quilt designs in various galleries on the Southern Oregon Coast, Ria fulfills her creative need to quilt by designing masterpieces for those gallery visitors to admire and honor.
Ria's unique form of art extends the boundaries of quilting as an artistic medium - combining her artistic "eye" and the work of her hands and fingers into magnificent wall hangings.

Ria's integrity of expression and quality of craftsmanship are expressed in her diverse, dynamic, often challenging patterns.